The Posture Bveiugn is a smart digital weighing scale with an intelligent health management system.
Aside from checking weight, Bveiugn has 12 other health indicators: Basal Metabolic Rate (BMR), body age, body mass index (BMI), body fat rate, body water, bone mass, fat-free body weight, muscle mass, protein, skeletal muscle rate, subcutaneous fat, and visceral fat. These are saved on the Fitdays app, available on iPhone and Android running iOS 8.0 and Android 5.0, respectively.
Fitdays can be synced with the following fitness apps: Apple Health, Fitbit App, Google Fit, and Samsung Health. Its cloud service keeps data forever.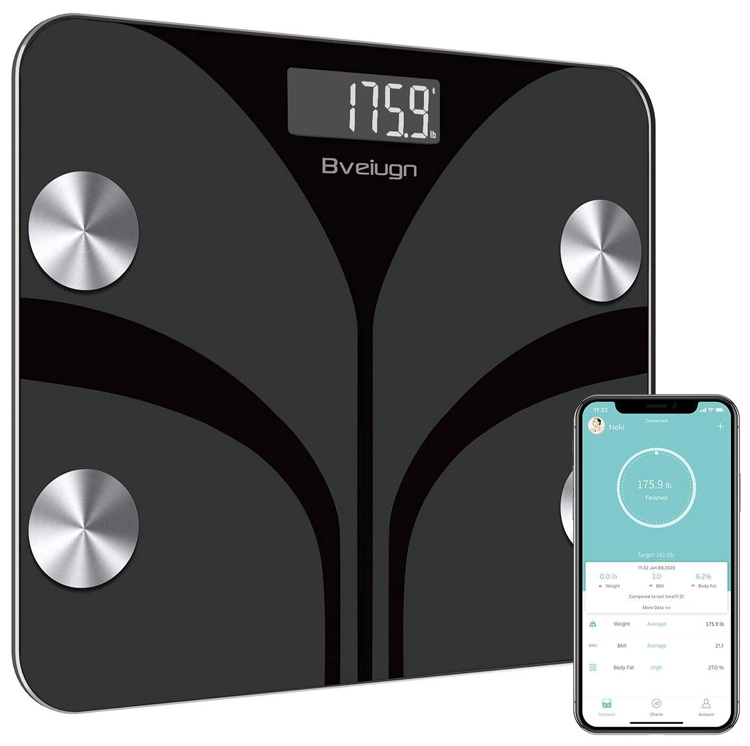 Buy on Amazon
The weighing scale features four G-sensors. These use dual frequency bio-electrical impedance to collect data, which have a weighing range of 0.4 to 400 pounds. The sensors allow Bveiugn to be precise and sensitive to minute changes. It is so accurate that it can measure a cup of water. The curve tracks weeks, months, and years' worth of progress.
Bveiugn can support up to 24 member profiles and even determine who is stepping on it. Their data is transferred via Bluetooth 4.2 and saved on the app immediately. Whenever they step on the scale, their data is automatically shown on a digitally lit backlit LCD.
Since the scale can be used by multiple people, Posture made the Bveiugn durable. It has an integrated body with rounded corners, making it safe and bump-free. The screen has tempered glass for added protection.
Bveiugn appeals to users of all ages. It has two distinct modes: Athlete goes in-depth in analyzing their physique, while Baby Weighing records the baby's weight. Baby Weighing records the weight of the adult first before the baby.
Pros and Cons
Bveiugn has a clear chart that lets members track their fitness goals. It has a curve that shows how close they are in achieving their fitness goals. This is shared on Fitdays and visible to all family members so so they can keep track of each other's progress. The curve can track weeks, months, and even years' worth of data.
The smart scale can also be a standalone health device. There is no need to buy a smartwatch just to check fitness levels, especially with the pandemic. Everyone is spending more time indoors so wearing a smartwatch just to check vitals feels unnecessary. One step is all a user needs to know about their health.
Bveiugn is all about convenience. It knows who is using the scale so their information is instantly available. Data is automatically synchronized with the smartphone and updated on the app.
Unfortunately, Bveiugn cannot measure heart rate and blood oxygen levels because it does not have a heart rate sensor and pulse oximeter. For these readings, separate devices are needed.
Luckily, Bveiugn can measure 13 aspects of a person's health in real-time, allowing the user to make wiser health decisions. They can share it with their family and friends and get tips on how to improve themselves. And with a competitive price, users can up their fitness game without spending too much.